All Inclusive

Usenet Storm provides everything you need to get started. With full featured Usenet access you can use any software you like, or stay web based and access Usenet from your web browser on any device.

Unlimited Speed
Download speeds have been tested at 1.2 Gbps with just 20 connections. The computer you are using is usually what limits your speed, so if you sustain over 2 Gbps, write up how you did it so we can share it with the community and we will give you a free Usenet account.

Uncensored Usenet
Newsgroup access is uncensored. We filter out nothing, and have no control over the content of groups. You decide what you do and don't want to view. Do be careful, some newsgroups may be more than you want to see.
Works with Everything
Use any software you like, or just stay web based for easy access. Whether you're on a computer, smartphone, or tablet, we work with everything!
Private
Between nosy neighbors, Internet providers, governments, and employers most people have little privacy. Use high grade SSL encryption to keep anyone from seeing your Usenet downloads.
Un-logged
We keep no logs of what you download from Usenet. Neither your IP address or username is shown in anything you post with your account.
Newsbin
Included
All Inclusive Usenet Access

Full featured access to your newsgroups,
on any device.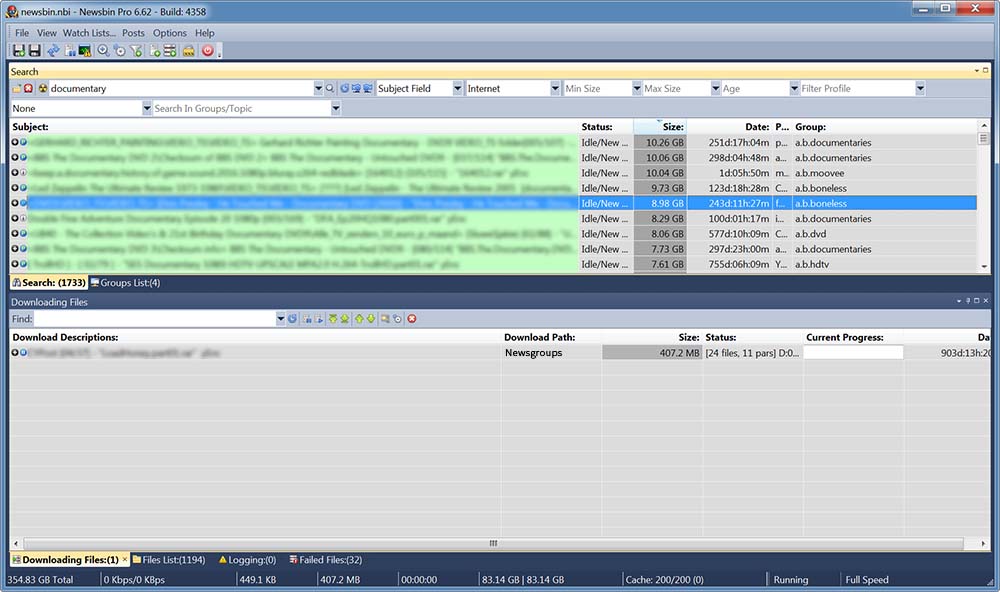 Newsbin Included

You can use any Usenet software that you like, but many users don't know where to start. Newsbin is the best Usenet software available, so we provide the full retail version of Newsbin for free, with Usenet Search. It can even be used with other Usenet providers, for as long as you have an account with us.
Download Newsbin
Multiple Server Locations
---