Uncensored Usenet
Get Fast Access to More Newsgroups
New to Usenet? Learn what it is, how it became the first file sharing network, and why it is still so important today.
Discover More
The Best Features
We specialize in providing uncensored Usenet service across all of the alt binaries newsgroups. Use any newsreader you like, or none at all, and easily access on any device.

Security & Privacy
Is your internet provider watching you online? You Bet! Especially with new laws regarding logs for internet providers. We use SSL to secure your downloads, with strict anti-logging privacy policies to keep prying eyes away.


Unlimited Speed
Max out even the fastest broadband with 50 simultaneous connections. Usenet download speeds have been tested at 1.8 Gbps with just 30 connections, which is blazingly fast!

Uncensored Access
Newsgroup access is always uncensored. We filter out nothing, and you decide what you do and don't want to see. Usenet is our business, babysitting you isn't.

All Newsgroups
We have every known newsgroup, uncensored and unfiltered. From picture groups to massive binary archives, we carry your favorite newsgroup and many thousands more.

More Completion
There are few things more irritating than spending hours downloading the perfect file you wanted, only to find that it is one part short of being complete. To keep this a rare event, we have greater than 99.9% newsgroup completion.

Retention Time
Enjoy access to over 4 years of newsgroup retention. We've got you covered, in case you've been away from Usenet for a really, really long time.
Support For The Latest Mobile Technology
Full featured access to Usenet on any smartphone,
tablet, or mobile device.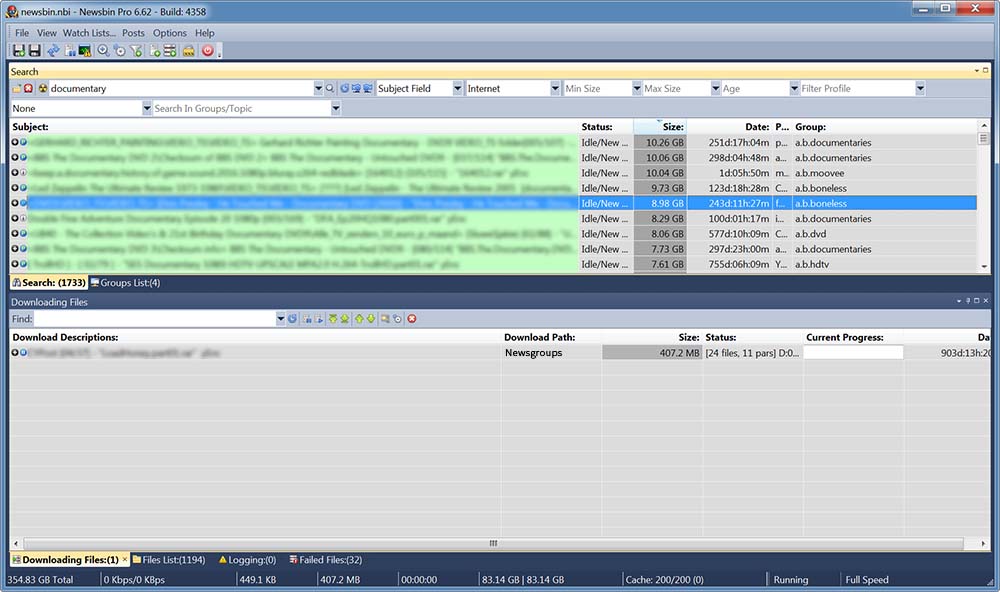 Browse & Search Usenet
You can use any newsreader that you like, but many users don't know where to start. Newsbin is the best there is, so we provide the full retail version for free, with unlimited Usenet Search. It can even be used with other Usenet providers, for as long as you have an account with us.
What is Usenet?
A Brief History
In 1980, Usenet was created as a bulletin board service (BBS) for text posts. What made the service special was that it could be accessed from the Internet instead of calling into it like any other BBS of the era. At that time, it was technically impossible to post or upload a file to Usenet.
The text messages were uploaded to newsgroups, because of the type of messages that were posted. The kinds of messages being posted radically changed over the years, but the term stuck and there are now more than 100,000 newsgroup topics, covering everything imaginable. If you just think of them as subjects or categories, you will be fine.
Newsgroup Naming System
Usenet has a naming system that can best be thought of as categories. Almost always, a single group name will specify a sub-category. For instance alt.binaries.pictures.aviation means that this group is for files, pictures actually, and that those pictures should be on a specific subject. If you read all newsgroup names using this logic, most will make sense pretty quickly.
A Review of the Big 8
Because Usenet originally had very academic origins, the original newsgroup hierarchies can sound sufficiently boring. However, these were where most of the activity was in the early days of Usenet.
comp.* - Technical discussions related to computers (comp.hardware)
humanities.* - Discussion related to philosophy, literature, and the fine arts (humanities.philosophy)
misc.* - Miscellaneous (misc.education.science, misc.health)
news.* - For discussion about news relating to Usenet, not current events (news.admin.misc)
rec.* - Entertainment and recreation (rec.games, rec.humor)
sci.* - Science discussions (sci.astronomy, sci.chemistry)
soc.* - Social issues and discussions (soc.culture.polish, soc.religion)
talk.* - Discussions that are usually controversial (talk.politics.theory, talk.religion.christian.science)
Another hierarchy was also created, as the demand grew for more new subjects that didn't fit into one of the main categories. The solution was to create the alt.* hierarchy for alternative subjects. Now, the alt.binaries alone are responsible for Terabytes of data per day, far exceeding the bandwidth of the Big 8.
About Service Providers
There is no one server, company, or newsgroup provider in charge. Instead, Usenet is a distributed network spanning thousands of server clusters around the world, each one mirroring all of the content of all of the other servers and being totally independent in every way.
An Upgrade That Changed The Networking of Every Provider
At some point, someone figured out how to convert files into text that could be posted, downloaded, and converted back into the original file. This was a major advancement at the time and Usenet quickly became the first file sharing network, significantly predating things like Torrents. File sharing became popular so quickly that alt.binaries.* were created by the thousands. Over time, files became the majority of the content posted and Usenet just exploded. Shortly after, Eugene Roshal developed RAR files as a more reliable way of posting very large binary files to Usenet. Today, 93% of all files posted to Usenet are RAR files.
Growth of Usenet
Source: Wikipedia
It appears that there has been the most growth over the last 5 years, but it has really been like that for more than 20 years. Jumping from 250 Gigabytes in 2002 to around 500 Gigabytes in 2003 was huge growth for the time, it just doesn't look like much now. Our perspective has just changed.
There is now over 27 Terabytes of new data posted to different groups every day, or over 64 million posts. They cover every subject imaginable, literally. From discussions about politics to high-resolution sex videos involving tickling....yes, there is a newsgroup for that. It is totally unregulated, with servers having no control over posts, and that is what people like and hate about it. There is a lot of spam and there are a lot of viruses if someone is not careful, but that freedom is also what keeps it growing...good, bad, and ugly.
Retention, and specifically binary retention for files is one of the most important features when comparing a Usenet service provider. The amount of time that a service provider keeps data is called retention. How long servers keep files is called binary retention. UsenetStorm features 4 years of binary retention, with text retention being many years longer.
Traditionally, you must have a newsreader to access Usenet servers, just like you need an e-mail client to send an e-mail and a browser to see a website. There are very few good ones out there and they all cost money. So if you want to download from Usenet then you need an account and then you need something to be able to connect to that account. As you can imagine, this is a little bit too much to ask of someone that is just learning about Usenet so some services started providing options with their accounts, as UsenetStorm does.
Usenet was the first file sharing network.
It is older than e-mail or the web
Newsbin is the most popular newsreader out there so we provide it to our clients for free. If you buy it retail then the Usenet search plan costs an additional $2.50 per month, but we include this for free as well. The client that we provide is also not restricted to only our servers (a good number of people use more than one Usenet provider) so they can use it with other services as well, just as long as they keep their account with us. For users that know what they are doing, this is a major thing. However, you can use any other software that you like, or use both with your Usenet service.
The traditional problem with Usenet is that it requires software to use it. New clients just get lost trying to get started, so many users prefer to use an NZB downloader.
Special Support for the use of Web Search
There have traditionally been no good options for smartphones. iPhone/Android have nothing even 'ok' available, so right there 50% of all Internet traffic is excluded from accessing. This isn't right, so one of the features that we provide a control panel for accessing Usenet from your browser. It doesn't include every group, only the largest ones, but the idea is to let someone get started downloading (maybe they are at work or just think it's confusing) on a computer, smartphone, or tablet easily. You can browse files, add them to your list so they are easy to come back to (like bookmarking), or search for something you would like to download. When you see a file that you want, you can select to download it without having to stop browsing, and we let you know when it's ready to actually download.
A couple of other providers offer a web-based interface as well, but they either only offer this (no direct Usenet connections) or charge extra for it in some way. We do not, and we want to emphasize that UsenetStorm provides all-inclusive Usenet service. We have everything you need and you will not be charged extra for anything, ever.
Totally new users need to be using a client to get the best experience as so much more data is available by accessing directly and it is the best way to get started if they can get comfortable with it. But if they just can't use it (like on an iPhone/Android), then we have a comfortable interface for them to get started accessing Usenet.
How to Get Started with Usenet, A Beginners Guide in Three Simple Steps
Choosing the Best Usenet Provider
When possible, do not share your contact details
When accessing anything online, especially something that shows your personal interests, it is always best to be as private as possible. Some Usenet providers offer a free trial or do not require an address to purchase accounts. UsenetStorm is one of these providers, and we also accept pre-paid debit cards for payment.
Configure Your Newsreader
You can use any news reader that you would like. We provide the most popular one to our users for free, as it is easy to do private searching and secure downloading.
When To Use The Option Of Secure Connections
SSL protects your downloads from being seen by others. If you are on a WiFi connection then everything that you download can be seen by everyone within range of the signal. Many Internet providers also log all their customer's activity.
For the fastest speeds, do not use secure connections as they additional overhead to your transfers that will slow down your connection. Typically, this is only noticeable for users on very fast high bandwidth connections. On slower connections, you can compensate for this effect by raising the number of connection that you use.
Secure connections are a trade-off between resource usage and privacy. Most Usenet users prefer using settings for maximum privacy, and that is the option that we recommend.
Connect to Your Server and Browse or Search
You are now ready to access your Usenet provider and download the list of available newsgroups. You can browse those groups directly or perform a global search across all of Usenet. Browsing is the classic way of accessing and it gives direct access to an almost unlimited number of files. Searching is, by far, the easiest way of finding what interests you and is a great way to get started with Usenet.
Multiple Server Locations
---