Settings and Navigating in Newsbin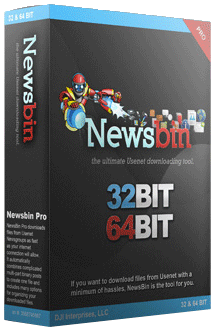 Settings: Spam Filters
As you can probably imagine, not everything that you can find on Usenet is kosher. Newsgroups can contain anything from text discussions to pictures, multimedia, and video. This massive availability of data also means that you have to be careful that your downloads are what they claimed to be and not something malicious. Newsbin, however, comes loaded with spam filtering features that can auto-detect if a post is likely to be spam or even viruses. Suspect posts can include RAR files that are encrypted, password protected, and especially those that are hiding executable files inside them. When an executable is hidden inside a RAR file, it is usually a trojan just waiting to make your computer part of a botnet or worse. This is where you can set how aggressively Newsbin filters files that it suspects as being spam.
Settings: Network
You'll find settings for your network here, including options for limiting the speed of downloads. This can be useful for some individuals that want to reduce the bandwidth usage of Newsbin.
Settings: Poster Settings
Here you can see a list of all the posters you've added to your blocked list.
Settings: Confirmation Windows
Sometimes the software will ask for confirmation when a certain action is performed. One obvious one is when you're exiting the program. It will ask you if you are really sure that you want to exit. If you're sick of it asking you such questions you can turn that off here.
Settings: File Descriptions
File descriptions save a description of a file after it has been downloaded. The description file is named "descript.ion". If you have no use for this knowledge you can turn it off here.
Settings: Security
If you're interested in requiring a password at startup, you can do that here. You can also prevent the software from being opened locally from different areas. The security settings can prevent individuals from accessing Newsbin locally on your computer. This is good if your wife, girlfriend, or boss isn't quite fully aware of your account on Usenet Storm.
Settings: Notification Options
Newsbin can be set to notify you under certain circumstances. If for some reason, you want it to send you an email after a file has been UnRARed, you can do that here.
Settings: Colors/Fonts
You can customize the software to display things a certain way. This is especially helpful for users that might be colorblind.
Settings: Scheduler
For users that have automated Newsbin, the scheduler can inhibit how many system resources or how much bandwidth is used during certain periods of the day. For instance, if you want the software to wait until the wee hours of the morning to download a host of NZB's, you can set that here.
Settings: Remote Control
One of the cooler options that the software affords is the ability to access it remotely. Here you can establish a password and port to listen on.
Settings: Remote NZB Interface
For those that are interested in integrating Newsbin with SickBeard or other external software, this is where the basic setup is. Basically, this allows you to grab NZB's and download them the moment they become available on Usenet. It's a nifty tool that allows for easy automation.
Settings: Performance
For users with older or slower PC's, there are a number of settings that will help you optimize some of the more CPU intensive operations. See also: Tuning Newsbin to Improve Performance
Settings: Scripts
After a file has finished unpacking, Newsbin can execute a batch file. This could be useful for moving certain kinds of files around, automatically converting from one file type to another, or deleting files that are otherwise unwanted.
Settings: Advanced
Options that don't fall neatly into any of the aforementioned categories are generally put under Advanced. Some of them actually are advanced. Others are really not very advanced. If you didn't find what you were looking for anywhere else, you can always try to see if it's under this section.
Navigating Newsbin Pro
You'll notice that Newsbin has a lot of options. For those that are just getting the hang of Usenet, Newsbin is a bit of a cluster-jam. After a while, you'll get used to the layout, but for users that are seeing it for the first time, it can be quite intimidating. That's largely due to the fact that the software employs a freeware library of icon-buttons. While useful, these buttons are for convenience and largely redundant. Eventually, they'll become your new best friends. If you hover over them for a second, they will explain to you what they do. But there's nothing you can do with these icons that you cannot also do from the drop-down menu above them. They are just there for easy access. So do not be alarmed!
The software also operates on a series of tabs and windows. Assuming that you're looking at a freshly loaded session, you'll notice that the screen is basically divided into two windows: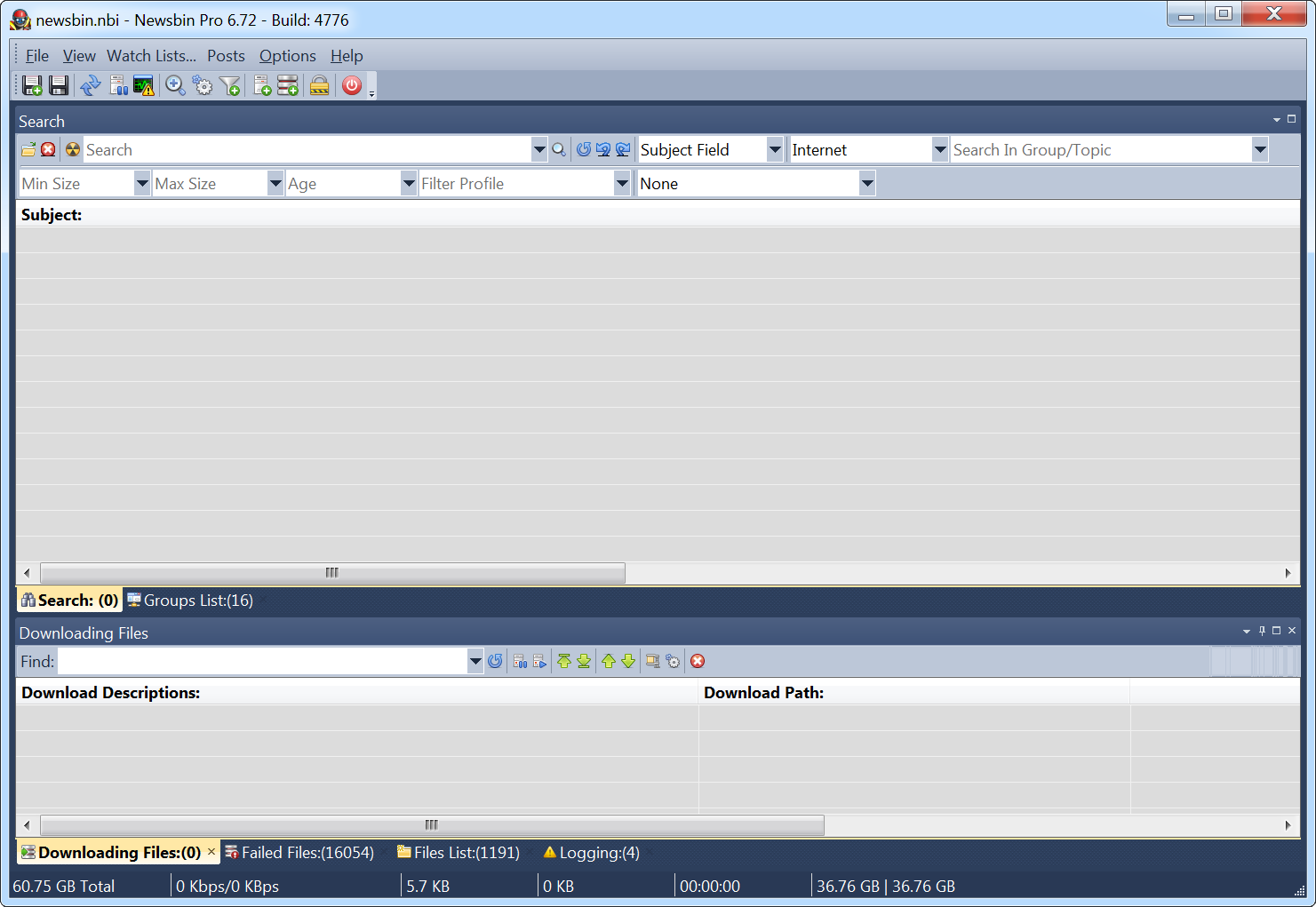 A freshly loaded Newsbin will display the Search Tab. The next tab over will be the Groups List tab. These are both excellent tabs to acquaint yourself with. You'll also notice that when you select a group from the list, it opens in a new tab. The tab architecture allows you to have multiple searches and multiple groups open simultaneously.
The nice thing about the software is that it's very configurable in terms of layout. A lot of work has been put into making the GUI as adaptable as possible. Each of the windows can be undocked and moved around. They can also be maximized, so if you want to see more posts in the group, and less information about what's downloading, you can do that.
Here, we'll go through some of the different options and how to navigate the software effectively.
The Right Click Menus
The right-click menus are remarkably useful. They offer a different set of options depending on which window you're in.
For instance, if you're in a tab that is displaying the contents of a group, you'll have different options for downloading a file, marking the post, seeing the contents of the post, and even replying to the post if you are so inclined.
There are also special options for downloading such as downloading to a new folder or downloading to a folder that is named after the post. Each of these is a useful option, depending on what it is you're downloading.
If you look in the Downloads window you'll find a different set of options for the right-click menu. Here you can pause a download, set its priority, remove it from the download list, and more.
The right-click menu is also useful for updating, removing, or categorizing groups.
The Drop-Down Menu
From left to right, Newsbin's drop-down menu is divided into:
File
View
Watchlists
Groups
Options
Help
We're going to take a quick walkthrough of what you'll find under each of these options.
Main Menu: File
The File Menu has about 5 basic options, one of which is Exit. Newsbin also allows you to save your current configuration, or save your current configuration as a backup before you modify it. If you choose to save your current configuration under a different filename, you will need to rename it manually as Newsbin.nbi when you want to switch back to your saved settings.
In addition, it is here that you can load NZB's. If you want to use the software as an NZB downloader, you can do that (see Downloading with NZB's on Newsbin). Newsbin will open the NZB in a separate tab. You simply select all the files and then download them. You can have them downloaded to a folder that is named after the NZB by choosing Download To Folder Named For Subject, which is a very useful option worthy of your attention.
Main Menu: View
Under View, you'll find a number of options for displaying different windows. These include:
Setting up a new search tab
Displaying download information
Displaying files that have already been downloaded
Displaying your selected groups
Displaying your wishlist
Customizing the menu options
Main Menu: Watchlists
The function of watchlists is to be on the lookout for specific search strings. These can be found either locally within headers or throughout Usenet using Newsbin's global search option. It bears mentioning here that the global search option must be paid for. A typical registration costs $20, but if you want to add the global search functionality, that will cost extra. You'll have to refer to Newsbin's site for further details.
Watchlists can be very useful for those that want to automatically download based on a phrase. You can set up as many watchlists as you want. It does, however, work better with the global function.
Main Menu: Posts
If you're observant, you'll notice that the options listed under posts are the very same as in the right-click menu, simply less conveniently located.
Main Menu: Options
Under Options, you'll find a number of different ways to tinker with Newsbin's settings. These include:
Settings
Servers
Filters
Add Groups
You can also clear your search history as well as reset your odometer. The odometer keeps a tally of how much you've downloaded, so if you're on a monthly plan, a debited plan, or a plan with a monthly limit, you'll know how many gigs of downloads you have left.
Since we've already covered Settings above, we'll start with Servers here.