Browsing Newsgroups
with Newsbin
When you are comfortable with
searching Usenet with Newsbin
, it is time to try browsing newsgroups. Browsing essentially gives you direct access to everything on Usenet. If you search for 'sports car' you might miss a post in the group alt.binaries.pictures.automobiles that has a title of '2017 Corvette Stingray', but if you are browsing that newsgroup you will never miss what you want because groups are named by category or interest.
If you do not already have it,
Download Newsbin
and then follow these 4 easy steps to get started.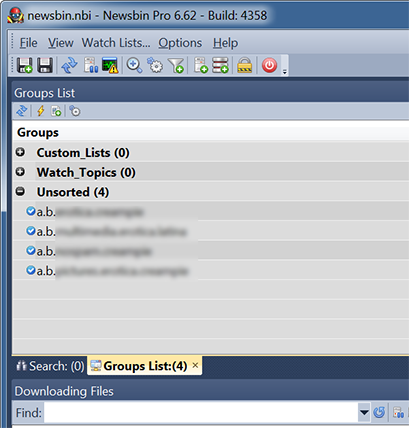 Step 1
In Newsbin, click on the 'Groups List' tab that is half way down the left side of the screen.
Step 2
Click the 3rd button from the right, in the top menu. It says "Open the Group Add Window", if you put your mouse over it.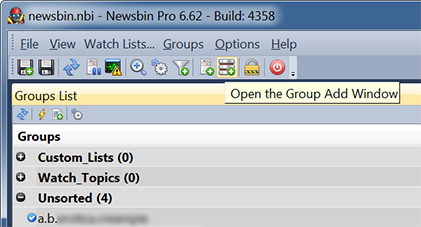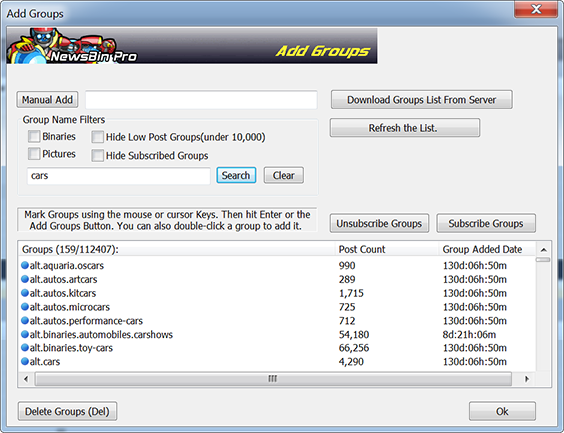 Step 3
Use the box by the "Search" button to find groups with a specific word. Double click on any groups you want to add to your list and click 'OK'.
Think of this as bookmarking it for later.
Step 4
You can now double click on a newsgroup, and Newsbin will start downloading the list of messages. It will then show you the progress as it downloads.
When it finishes downloading the list of messages, they will be shown in the top window and the newsgroup is ready to browse.